Website Traffic: guide to how to get tons of free and targeted website traffic [26 tactics]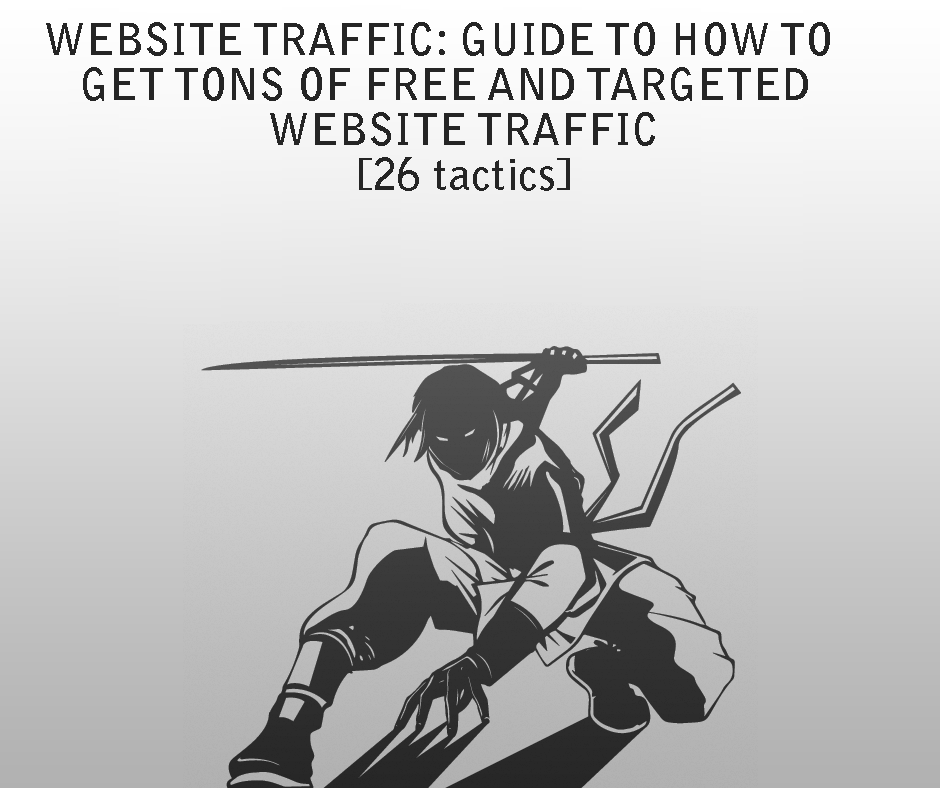 Everyone loves website traffic
Everyone wants traffic to their website. Website traffic equals internet fame, or if you're selling a product or have ads on your website it equals money; or if you're a startup business (who isn't necessarily yet monetizing their site) it equals new customers and interest from investors.
Is getting website traffic difficult?
The answer is yes and no. It depends on two factors: 1) do you have compelling content or a compelling product? 2) do you know how to properly promote your website? If the answer to 1 is no, then you're going to find it difficult to gain a lot of website traffic, but if the answer is yes then you might get a decent amount of traffic without doing anything; but if you know how to properly promote your website and you have a compelling product/content then your website traffic could go through the roof. Don't get me wrong, their is a fair amount of work involved to promoting your website online, but it's not difficult if 1 and 2 are true, it just takes time.
Combining tactics to get website traffic
If you want an enormous amount of website traffic you need be fire on all cylinders, you have to use every trick in the book, each tactic alone might only make a small dint but all tactics combined can propel each other to create a website traffic overload.
I don't want to waste anymore of your time, you want to know how to get website traffic and I've kept you waiting long enough, the rest of this article is 100% dedicated to how to get traffic to your website:
1) Optimize your on-page SEO
SEO stands for Search Engine Optimization the goal of which is to rank higher in search engines (especially Google). On-page SEO is the process of adjusting your website parameters to increase search engine rankings. On-page SEO is beyond the scope of this article, therefore I suggest you read Brian Dean's article; On-Page SEO: Anatomy of a Perfectly Optimized Page. Here are some basics of on-page SEO in case you don't read Brian's article: optimize your <title> tag to target the keywords you want to rank for, also make sure the keywords appear in header tags (<h1>, <h2> etc) and throughout your copy (don't overdo it though as very high keyword density is cause for a penalty by Google), make sure your site is responsive (i.e. renders well on desktop and mobile) and make sure your website is fast, these are both ranking factors. Finally, make sure to include your target keywords in the page's URL.
2) Build inbound links to your website
Inbound links get you website traffic in two ways, firstly they get you referral traffic from the website linking to you, secondly inbound links (as long as they are from quality websites) boost your search engine rankings giving your more search traffic. The best way to gain inbound links is outreach (i.e. reaching out to other websites/blogs and asking for links) and having great content and/or product. Check out Jon Cooper's article Link Building Tactics - The Complete List.
3) Promote your website on Facebook
Create a Facebook page (see How to Create a Facebook Business Page in 5 Simple Steps) and post compelling and useful content to it on a regular basis, in time new users should discover the page. Make use of images and video in your posts as these are shown to increase CTR (click through rate). Link to your website in your Facebook posts, not necessarily on every post (as users might perceive this as being spam), every 3 or 4 posts is a good goal. Another worthwhile tactic to getting website traffic from Facebook is to post your website and/or Facebook page on on-topic/relevant Facebook groups and pages.
4) Promote your website on Twitter
As of the of 2017, Twiter had 330 million monthly active users. That's a huge potential of people to gain website traffic from. Read our article on this topic: The Definitive Twitter Marketing Guide for 2017.
5) Market your website on Pinterest
Pinterest is a popular visual bookmarking tool where users share images taken from the web. A "pin" can also include a link to the source website creating a golden marketing opportunity. Read The Ultimate Pinterest Marketing Guide in order to master Pinterest marketing.
6) Market your website on Google+
Google+ is Google's answer to Facebook. It doesn't have near as many users as Facebook (and Google are secretive about the numbers) but it has enough activity to be a worthwhile marketing tool. There are two ways you can market on Google plus: 1) create a Google+ page (see How to Create Google+ Brand Pages) and share interesting and relevant content, incorporating your website link every so often; 2) post your website on related Google+ communities. For more on getting website traffic from Google+ see The Marketer's Guide to Google Plus.
7) Market your website on Instagram
Instagram has over 600 million users, making it another great platform to gain website traffic. See James Scherer's article How to Promote Your Business On Instagram: 21 Techniques, Tips & Strategies.
8) Market your website on LinkedIn
Post your website on on-topic/relevant LinkedIn groups to gain website traffic. For more on LinkedIn marketing see 15 LinkedIn Marketing Hacks to Grow Your Business.
9) Pitch your website to the press
Pitch as many press contacts as you can because not only might you get exposure you'll also likely get a high quality link back from their website. You can usually find contact details for journalists on the publication's website but there are also services like MuckRack that list journalists details
10) Start an email list to gain repeat website visitors
Setting up an email list is a great way to get visitors back to your website by drawing users back in with emails containing content teasers or product offers. You can use a service like Aweber or MadMini to implement your email list.
Bonus material: 16 more ways to get traffic to your website
To (instantly) access the bonus material you need to please share this article on Facebook, Twitter or Google+, it only takes a second and the ROI of knowing the additional ways to boost your website traffic is priceless. Note; after you've shared it the page might take a minute to update with the link to your bonus content.
P.S. Sign up for our newsletter to receive ninja marketing articles and productivity boosting content straight to your inbox.