At last! It's taken longer than we hoped, but the new version is finally here.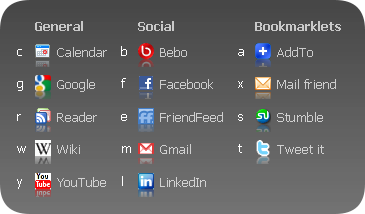 What's New
Faster than ever, with lower memory usage—many internal optimizations make this the most streamlined SiteLauncher version yet.
Use custom icons for shortcuts—replace a shortcut's icon with your own image or even an icon from another website.
New toolbar button—now includes an (optional) toolbar button, giving you a way to invoke the launcher without the keyboard.
More control over layout of shortcut groups—including the ability to stack shortcuts in groups vertically instead of the "classic" horizonal layout.
New option to open shortcuts next to active tab—makes losing your place a thing of the past.
Improved support for lower screen resolutions—management screen has been reworked to fit lower resolutions, down to 800x600—especially useful for netbook users.
Many more enhancements and a number of minor bug fixes.
Thanks
Thanks to everyone who provided feedback and ideas, we find it invaluable for improving SiteLauncher and making sure we are on the right track. We look forward to hearing what you think of this release.
Get it now
The newly released version is available to download from the homepage.